About BigFootShoes
At Bigfootshoes we have recognised the need to improve availability and the choice of quality men's shoes in larger sizes. In today's market, if you need footwear in big sizes the choices are poor. Our mission is to provide the best possible choice of men's shoes in sizes 12, 13, 14, 15, 16, 17, 18 and 19 including wide fitting and extra-wide fittings.
Bigfootshoes has an extended history in the footwear industry and that is reflected in the large and varied choice of footwear we present to you. By teaming up with reputable big shoe brands including Barker England, DC Shoes, Chatham and Merrell we aim to bring a wide range of quality products to a "growing" market sector.
Our extended range of stylish footwear includes formal shoes, brogues, moccasins, deck shoes, winter boots, slippers and walking boots for men. Further leading brands like Timberland and CAT add to our selection, and we also stock a range of work boots and shoes from Grafters, Muck and Rockfall, all at competitive prices.
Please enjoy your visit to our online store and shop by large shoe size, shop by shoe brand or browse by shoe style and type or check out our regular new arrivals to find your perfect fit. We'd also be delighted to welcome you to visit our modern showroom along the M4 corridor by Royal Windsor.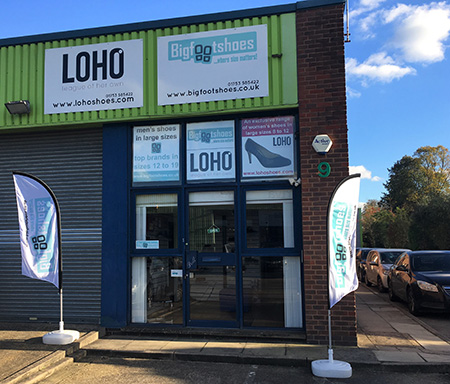 A key dynamic of Bigfootshoes is to engage with our customers. Any comments, questions or suggestions you may have will be gratefully received, please do not hesitate to contact us. The more we talk to each other, the better the service we can offer.